Do more with
Dnister's Visa Debit

card
We offer a choice of designs for our members to choose! When applying simply select your preferred card. The cards symbolise prominent colors and symbols aligning the co-operative with its foundation and niche market and bond.  The blue and yellow card features the Ukrainian national symbol – "Tryzub" and the red and white card features the Latvian "Saulīte" – a symbol of eternal movement and life, bestowing warmth and light.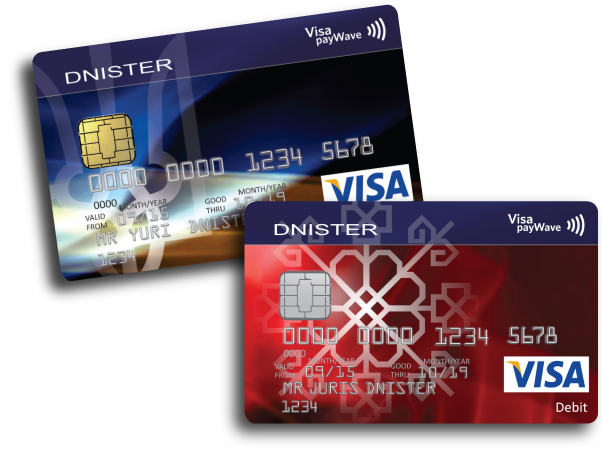 This contains your personal information. The chip technology makes it extremely difficult to counterfeit or copy – so it helps to protect you against fraud.
This 16-digit number is unique to your card, and is different from your account number. You'll need your card number when you shop online.
This is the month/year your debit card was issued. 09/15 means that the card was issued in September 2015. The date always appears right below your card number.
Your name appears here. It matches the name on your Dnister membership.
Your Dnister member number appears here.
This is the month/year your debit card expires. 10/19 means it expires at the end of October 2019. Your Visa Debit card will not work after that date. A new card will be automatically issued before this date, so remember to let Dnister know if your address changes.
You can use your card to pay in participating stores, online, overseas or by phone – wherever the VISA symbol is shown or mentioned.
Benefits of Visa Debit
Take advantage of the facilities and benefits –

apply today!
Your new Dnister Visa Debit card behaves like a credit card but you access the balance of your funds in your personal account. What does this mean? Simply that, your card is connected to your transaction or savings account, which means you're always in control of your money!  This also protects you from overspending and unexpected debt. 
Make fee-free purchases by simply pressing the 'CR' button at an EFTPOS terminal. You can use your card anywhere Visa cards are accepted.
As a Member owned Credit Co-operative, we put our members first. Our profits are invested back into our members and the Ukrainian community and its organisations– not paid out to shareholders or market investors. This allows us to offer you lower fees, lower lending rates, higher investment rates, better banking products and support for community projects.
Join a financial provider that gives back!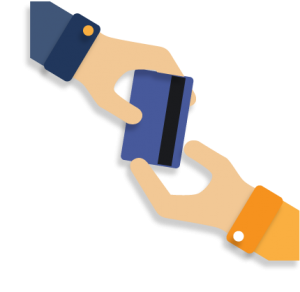 Make purchases anywhere a Visa card is accepted

Pay with your own money. Your Visa Debit card is connected to your transaction or savings account, which means you're always in control of your money.

Shop online. Your Visa Debit card acts like a credit card, but you use your own funds.

Tap and go with a Visa® payWave. Make purchases under $100 by simply tapping your card against a payWave terminal.

Smart chip protection. Increase your security and reduce your exposure to counterfeiting, card skimming and other fraud with a smart chip.

Verified by Visa checks that it's you making the purchase.

Fee-free purchases. Simply press the 'CR' button at the EFTPOS terminal.

Visa Zero Liability Policy. With Visa's Zero Liability policy, you won't be held responsible for fraudulent charges or unauthorised purchases made with your card or account information. This means you can use your card to shop with total confidence, as you will always be protected against unauthorised use.
Visa payWave
Secure, contactless technology that will help you spend less time at the register.
Visa payWave lets you breeze through a check out faster since there's no need to fumble for cash or enter your PIN. You can simply wave the card in front of a secure reader and you're on your way!
It's all about choice!
One of the advantages of Visa payWave contactless technology is its ability to enable payment through new and compelling form factors beyond traditional payment cards, such as mobile phones and other consumer devices.
Easy and Convenient
For transactions under $100, just wave your Visa payWave-enabled card in front of a contactless reader and go – there's no need for a signature or pin. Visa payWave is accepted at Australia's leading retailers, including Coles, Woolworths, McDonald's, 7-11, JB Hi-Fi, Bunnings and Caltex. Shopping for everyday items has never been easier.
Contactless Technology
Visa payWave allows for faster transactions and increased convenience while still maintaining Visa's high-security standards. A chip is embedded in the card, sending information to the secure reader at the point of sale. In addition, cardholders remain in control of their cards during the entire transaction, further reducing the risk of fraud.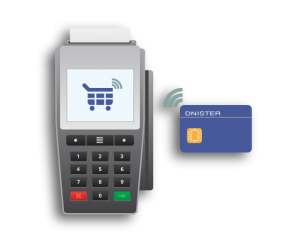 Visa payWave-enabled cards are backed by Visa's Zero Liability Policy and are as secure as any other Visa chip card. They carry the same multiple layers of security, which ensures that you are not responsible for fraudulent or unauthorised transactions.

Visa payWave cards only work when the card is within 4cm of the card reader and the payWave terminal can only process one transaction at a time. Because your Visa payWave card doesn't leave your hand during the transaction, you remain in control of your card at all times

Visa's Zero Liability policy covers Australian and New Zealand-issued cards and does not apply to ATM transactions, transactions not processed by Visa or certain commercial card transactions. Cardholders should notify their issuer promptly of any unauthorised Visa use. Please consult your issuer for additional details.
Verified by Visa
Verified by Visa adds an extra layer of security – at no additional cost – when you shop online with participating retailers.
When you shop online with a participating retailer you may be asked to provide extra information. We use this to check that you are you. This information will not be given to the retailer. This added security provides assurance to you, the retailer and to us that your card is not being fraudulently used.
Once you've provided the requested information, we'll check the information, after which your purchase will proceed. Without this information, the store may not accept your payment. Additional cardholders can also use Verified by Visa (with their own card and personal information).
How to enrol for Verified by Visa
Activate your Card: Contact us at Dnister to activate your new Visa Debit card.
Go shopping online at a participating Verified by Visa merchant. When you're ready to pay, enter your Dnister Visa Debit card details on the payment page. You'll automatically be prompted to enrol for Verified by Visa, with the following details:
Name as shown on your Dnister Visa Debit card
CVV – Cardholder Verification Value (the last three digits on the back of the card)
Card expiry date
Your date of birth
After entering your details and clicking the 'Enrol now' button, you'll be asked to create a Personal Message and password.
Once you've enrolled, you'll be prompted to enter your password whenever you shop online at a participating Verified by Visa merchant.
Verified by Visa assesses online transactions to reduce the risk of fraudulent transactions. You may also be required to enter a Security Code as an additional level of protection.
Quick and easy to use. You don't need a new card or any special software. When making a purchase online, your card will be recognised by merchants offering the Verified by Visa service.
More and more online merchants are offering the Verified by Visa service. As Verified by Visa grows, dozens more of your favourites will be added. Just look out for the Verified by Visa logo to see which online merchants are offering the service.
Applying for your Visa Debit card
It's quick and easy to get a Dnister Visa Debit card! Your new Dnister Visa Debit card can be used in conjunction with your existing cards. This does not replace any existing card arrangements.
Not a member? 
Before applying for your Visa Debit card, you will firstly need to become a member of Dnister.
You can do this by printing out and filling in one of the Applications below and bringing it in to your nearest Dnister branch.
Already a member? 
Fill out a Visa Debit Card Application Form and send or bring it in to your closest branch.
Frequently asked questions